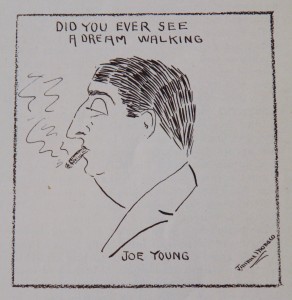 My great uncle Joe Young (1889-1939)  was a prolific hit songwriter of the Tin Pan Alley era. He wrote 600 songs, was a charter member of ASCAP and is in the songwriter's Hall Of Fame.
I'm producing a new musical about his life on Tin Pan Alley between 1910 and WW2. It will featuring his songs and new original compositions.
Joe's many big songs include: "How Ya Gonna Keep Em Down on the Farm", "I'm Sittin' on Top of the World", "Five Foot Two, Eyes of Blue", "Dinah", "Rock-a-bye Your Baby with a Dixie Melody", "I Got Her Off My Hands (But I Can't Get Her Off My Mind)", "Annie Doesn't Live Here Anymore", "Tuck Me To Sleep in my Old Tucky Home", "Mammy", "I'm Gonna Sit Right Down and Write Myself a Letter", "You're My Everything", "Cryin' For The Carolines", "A Hundred Years From Today", "Lullaby Of The Leaves".
Joe worked with all the greats of the era, and was known as the most prolific writer of his time. He was a huge personality and a famous wit. His songs have been recorded countless times by all the great interpreters of the Great American Songbook.
When he died, his obituary said "Joe Young, who died Saturday in New York, probably wrote more songs that tickled the fancy of the public, with the possible exception of Irving Berlin, than any other composer."